Going to the Carpathians is always a good idea, regardless of the season. And in winter – this is the best thing you can think of for the weekend. Snow-capped mountains are not only a pleasure to contemplate but also an opportunity to do outdoor activities, sliding down the slopes on skis, snowboards, snow tubes, or sleds.
Vidviday Tour Operator offers you a variety of ski tours. Your vacation in Ukraine will be complete and full of impressions if you travel to the Carpathian mountains in winter.
Every lover of the winter holidays has probably heard of Bukovel. It is the best and most popular ski resort in the Carpathian mountains.
Bukovel
The Bukovel ski resort is considered the top resort by foreigners and Ukrainians. Join us on Bukovel: skis, sleds, and Hutsul folk entertainment tour to enjoy a quality vacation in the mountains.
There will be no time for boredom: Bukovel offers you 61 tracks with a total length of 50 kilometers, 12 "blue" descents for children and beginners, 41 "red" for experienced skiers, and 8 "black" ones for professionals and extreme sports enthusiasts.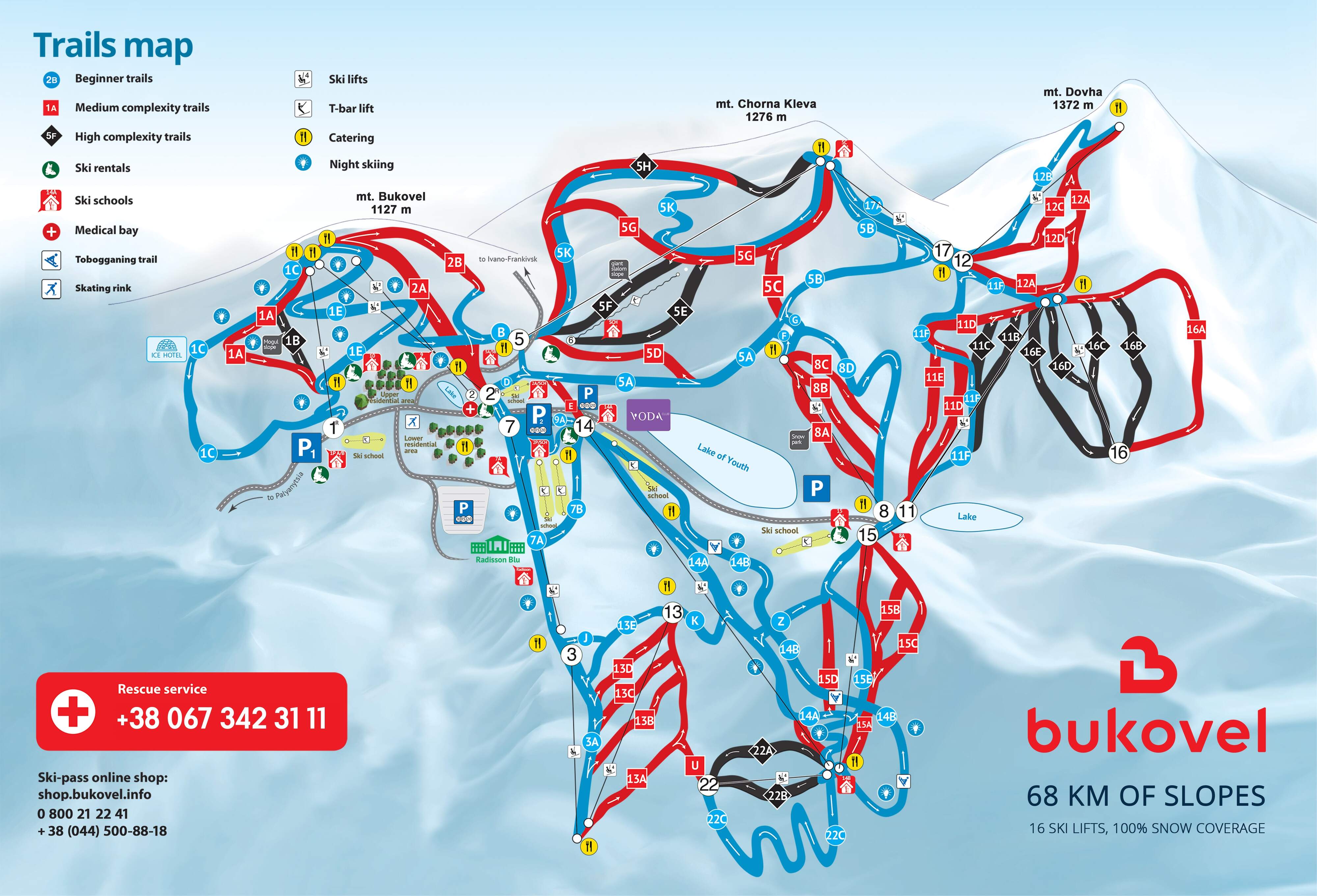 IWhen there is no snow in Ukraine, we invite you to the Carpathian mountains to feel a real Ukrainian winter on Hutsul Carpathians + Bukovel tour.
The technical equipment of the Bukovel resort allows its guests to enjoy non-stop skiing with artificial snow. At night, the ski slopes are illuminated, so tourists can ski anytime they want. Bukovel: skis, sleds, and Hutsul folk entertainment tour is suitable for families, friends, and solo travelers.
Drahobrat
If you like wild nature, consider the highest ski resort Drahobrat. The complex is located at an altitude of 1400 m at the junction of coniferous forests and alpine valleys near Mount Stih (1707 m), near the mountain range Blyznytsia (1883 m). From here you will observe wonderful views of the highest massif of the Ukrainian Carpathians – Chornohora, you can see the tops of the mountains Hoverla (2061 m) and Petros (2020 m). Drahobat is the best option for fans of adventure holidays, although beginners will also find entertainment for themselves.
A distinctive feature of this resort – natural snow and a long skiing season – from November to May. There are 8 trails of various difficulty, laid on the slopes of Stih mountain. Drahobrat is a paradise for freeride and snowboarding fans! There is also a ski school, where everyone can learn the basics of skiing. The unique terrain of the Svydovets slopes and the unlimited amount of snow in the Drahobrat area attract fans of extreme skiing. Visit the pearl of Ukrainian Carpathians on our Drahobrat skiing tour + Hutsul folk entertainment.
Plai
The picturesque ski complex Plai is ideal for entertainment and recreation. It has everything you need for spiritual revival and replenishment of energy: ski slopes, spas, restaurants.
In the spa, you can visit the jacuzzi, saunas, solarium, fresh bar, massage parlor. There is also a church and a museum of Ukrainian life.
Slavske
Slavske is a wonderful and famous resort. It is suitable for recreation with children and for those who have only recently started skating.
A variety of trails, fantastic scenery, and convenient transport links make holidays in Slavske more and more popular. Trostian mountain located here has 11 tracks, 1 chairlift, and 7 ski lifts, as well as a baby ski lift for your kids.
Zakar Berkut
Slavske Zakhar Berkut is a place where legends live and dreams come true. Here you will touch the beauty of the Carpathian Mountains and feel all the benefits of comfort. Ski resort "Zahar Berkut" has trails of different levels of difficulty (blue, red, and black), with a total length of over 9000 m.
It is also possible to use the services of an instructor. It is here that the longest cable car in Ukraine is located – 2710 m, ascending or descending which, you can admire the mountain views to your heart's content. And Vysokyi Verkh mountains offers various services is developed. There you can enjoy local dishes, mulled wine or herbal tea. Book a tour "Carpathians for 1 day + SPA" and enjoy the Carpathians.
Bukovytsia
For new impressions, go to "Bukovytsia". The young ski resort Bukovytsia is gaining momentum. Among the main advantages – the European level of service, excellent trails for beginners, the availability of tubes and boards, rental of all equipment, ski school, and great location – 7 km from the city of Truskavets.
Here you can easily go skiing, even if at first you did not plan it, but just came to drink some healthy water.
Pylypets
To see a real Carpathian eco-holiday and feel the atmosphere of natural comfort, be sure to go to Pylypets at least once during the whole winter season. Pylypets Ski Resort is a pearl of the Zakarpattia region. The village is located at the foot of Mounts Hemba and Mahura. They are part of the mountain massif Polonyna Borzhava, known for its unique beauty. As soon as the snow falls, Pylypets turns into a modern ski resort with a total trail length of more than 20,000 m. There are slopes of varying difficulty.
The longest tracks in all of Ukraine have been laid in Pylypets, and it is here that unofficial competitions in freeride (riding on untouched snow outside the prepared tracks) and jibbing (extreme riding on logs, handrails, benches, etc.) have started for the first time. Great place for both beginners and professionals. After visiting this resort you can not only go skiing and snowboarding, but also admire the beauty of the mountains and the waterfall Shipit, which is very close. A trip to the Carpathians will allow you to fully relax from the gray days in the fresh frosty highlands!
Krasiia
If you are tired of long queues at lifts and you are just learning to stand firmly on skis, then treat yourself to a holiday in a picturesque corner of the Eastern Beskyds, visiting the ski resort of Krasiia. The mountain peaks of this resort are famous for their flatness and width. This is an ideal place for all types of beginners: skiers and snowboarders. The longest route in Krasia reaches 3.5 km, but this is not the main feature of this location. If you like extreme, then this resort offers you the opportunity for off-piste skiing. Here, as in Drahobrat or Bukovel, the ski season is quite long – it starts in December and ends in April.
Resort "Krasiia" welcomes everyone, even the smallest fans of winter recreation. Professional instructors help children who do not know how to ski at all. A special children's lift works for the little ones. And those kids who are afraid and stubbornly do not want to master skiing can have fun skiing on a snow tube (rubber wheel). This type of descent is much safer than sledges, so descents are allowed for children from 3 years.
So there are plenty of ski resorts in Ukraine to choose from! And choosing tours with Vidviday Tour Operator, you will not only see the winter fairy tale of the Carpathians and inspect the ski resorts, but also go on excursions to interesting places, see unique natural objects, recuperate in natural springs, taste local traditional dishes.
We are sure that our tours to the Carpathians will be the best part of your vacation in Ukraine.
(Visited 3,524 times, 4 visits today)